Blupimania
Edit
Blupimania is a series of two puzzle games created by Epsitec. Blupi rises with a balloon, and he must find his way to another balloon.
Blupimania 1
Edit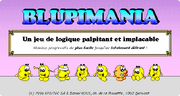 The prequel to the more well known Blupimania II, Blupimania is a puzzle game for the Smaky and DOS. You can create your own puzzles.
There are two modes of play. One mode is where Blupi (And in some puzzles more Blupi's) start off the puzzle with a balloon, being blindfolded. Another mode is where you play as a remote-controlled Blupi who can be controlled with the arrow keys or by clicking on a desired location with the mouse. The player can configure the controls for the remote-controlled Blupi. The english version calls the remote-controlled Blupi's radio-controlled Blupi's, which is most likely a mistranslation. Apparently, the Smaky version does not give a consistent name for the nasty Blupi's.
Differences:
Blupi starts the puzzle blindfolded.
Blupi has limited stamina.
Blupi walks by himself.
Remote controlled and Nasty Blupi's.
See also
External Links
Blupimania II
Edit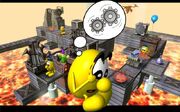 The sequel to the more obscure Blupimania game, Blupimania II uses the same 3D Engine as CoLoBoT, Ceebot, and Buzzing Cars. Like the first Blupimania, you can create your own puzzles.
Differences:
Blupi is never blindfolded.
Blupi never gets tired.
Blupi will react to mouse clicks.
No remote controlled or nasty Blupis.
There is now more than one Blupi.
Music facts
Edit
BMX002.MUS was adapted into WIN1.MID for eGames' Bridges, which was included in a collection called Card Classics.
BMX005, BMX007, BMX011 & BMX013 were recylced as the first 4 MIDIs for Planet Blupi.
BMX010 is the song "Bad Love" by Eric Clapton.
BMX012 and BMX013 are not available in the demo of the game.
The MIDI files can be downloaded here: https://www.mediafire.com/folder/4df8tzjbpbvaz/BlupiMania_Music